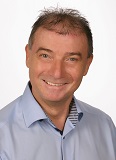 Prof. Janos Arpad Kosa
GAMF Faculty of Engineering and Computer Science, Hungary
Biography
Invited presentation from his work:
§ at Michigan State University, USA (5/10/2012),
§ at Ankara University, Turkey (28/02/2014).
§ at Amity University, Jaipur, India (27/03/2017)
Chair:
§ BIT's 4th Annual World Congress of Smart Materials -2018, Osaka, Japan Session 203/2: Smart Materials Applications in Electrical and Electronic Equipment
§ ASC Conference 2012, Portland, USA (Transformers, Motors, and Generator; Oral Session)
§ 6th Japanese-Mediterranean Workshop on Applied Electromagnetic Engineering for Magnetic, Superconducting and Nano-Materials, 2009, Bucharest, Oral Session
Work experience:
2017 Sept. - Department of Electrical Eng. Faculty of Science and Techn. University of Debrecen
2015 August - Neumann Janos University, GAMF Faculty of Engineering and Computer Science, Hungary, professor;
2014 August - 2015 July, Ankara University, Turkey, Center of Excellence for Superconductivity Research, Visiting Scientist;
2013 Nov. -2014 July Kecskemet College, Hungary;
2013 Aug–Oct. Sharda University, India, School of Engineering and Technology, Electrical and Electronic Department, Professor;
2000 – 2013 Kecskemet College, Department of Automation, Hungary, associate professor
Subjects taught: • Application of superconductors • Engineering problem solving;
Videos for his students: https://1drv.ms/u/s!ApnkmJwFK_iigzIDFwY0tJrHbF9O?e=4rM81P
He likes dealing with solutions of applications of superconductors in the electrical energy system.