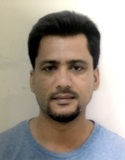 Dr.Naveed Ahmed, National University of Sciences and Technology, Pakistan
Research Area:
Renewable Energy, Energy Storage Technology, Solar Thermal Power
Research Experience:
Dr. Naveed Ahmed Completed his BS and MS Engineering degree from National University of Sciences & Technology (NUST) in 2009 and 2012 respectively. Acquired his doctoral degree from School of Energy & Power Engineering, Xi'an Jiaotong University, China. He is Currently working as Assistant Professor at U.S.-Pakistan Center for Advanced Studies in Energy (USPCAS-E), National University of Sciences & Technology, Islamabad. He has more than seven years of professional and research experience of working on a number of renewable energy projects. Dr. Naveed has published a number of research articles in high ranking international journals in the field of energy. His research expertise are Energy Storage Technologies, Renewable Energy Systems and Solar Thermal Power.