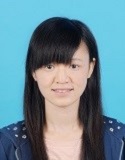 Prof. Xiaoying Tang

The Chinese University of Hong Kong(Shenzhen),China
Research Area:
1.online scheduling, distributed algorithm design and optimizations in smart grid, intelligent transportation networks, and other information related networks.
2.Multi-agent learning and artificial intelligence
3.Distributed learning algorithm design and analysis
Research Experience:

Xiaoying Tang (Used name: Wanrong Tang) is currently a tenure-track assistant professor in The Chinese University of Hong Kong (Shenzhen). Before that, she worked as a Postdoc/Research Scientist at École polytechnique fédérale de Lausanne (EPFL) and The Chinese University of Hong Kong(CUHK) during 2016-2019, respectively. She received her Ph.D. degree from CUHK in Jan. 2016, and B.Eng. degree from University of Electronic Science and Technology of China (UESTC) in 2011.
Dr. Tang received the Best Paper Award of IEEE SmartGridComm 2013, the Student Travel Grant from the IEEE Communication Society in 2013, and the Talent Development Scholarship from Hong Kong Special Administrative Region Government Scholarship Fund in 2015. She serves as TPC Co-Chair of ICC 2019 Workshop-ICT4SG, PC of APCC'19, Globecom'19, PSCC'18, APCC'18, APCC'17, SmartGridComm'16, SmartGridComm'15, Reviewer of top journals such as IEEE Transactions on Smart Grid, IEEE Transactions on Power Systems, IEEE Transactions on Industrial Informatics, IEEE Internet of Things Journal, etc.